Forging Ahead
The Indiana Economic Development Corporation (IEDC) has announced a second round of the READI initiative. READI 2.0 will distribute $500 million to regions across Indiana to fund impactful, game-changing projects. To guide East Central Indiana through the READI 2.0 process, ECIRP has recruited the help of HWC Engineering, a firm with prior experience and success with READI 1.0. Through the end of the year, the HWC team will gather information, engage members of the public, form strategies, and develop an updated plan for the region. By building upon previous efforts and encouraging regional collaboration, the project team hopes to pave the way for future growth and prosperity in East Central Indiana.
---
Process Timeline
For details on the application and policy for READI 2.0, please refer to the IEDC's website.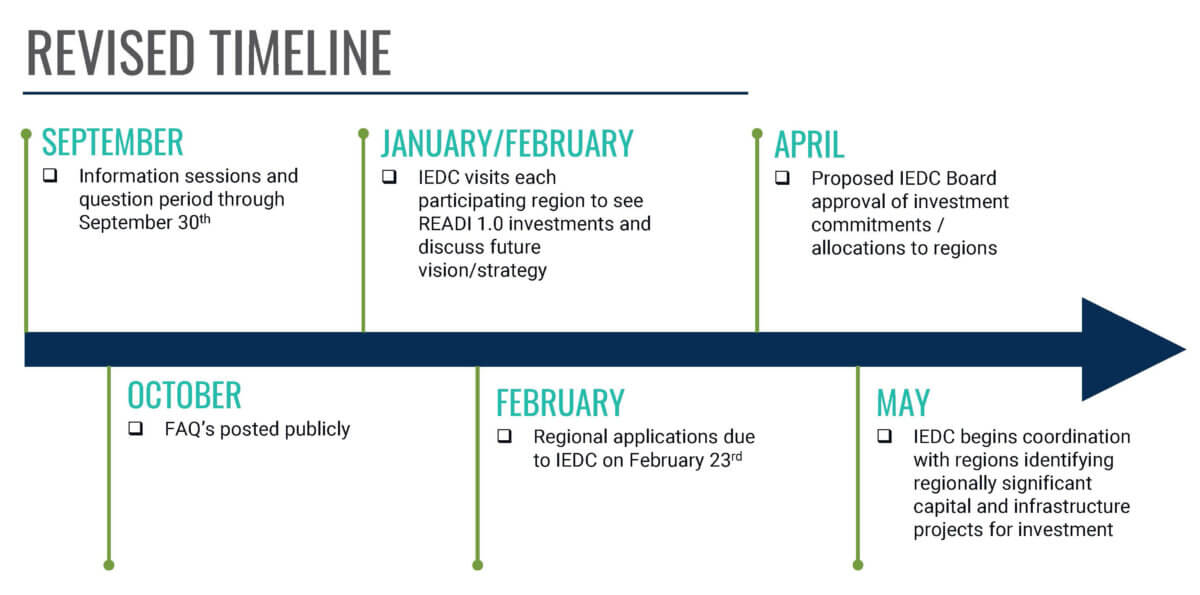 ---
Upcoming Engagement Opportunities
Youth Input Survey
Coming soon!
---
Developing Regional Consensus
Steering Committee
A Steering Committee has been organized and charged with guiding the development of the plan. The Steering Committee is the core work group that, in conjunction with the ECIRP and its consultant HWC Engineering, will complete the bulk of the work to create a strong plan based on feedback and data collected throughout the process. Members consist of two representatives from each county that makes up ECIs READI region of Blackford, Delaware, Fayette, Grant, Henry, Jay, Randolph, and Wayne counties. Steering Committee members serve as community liaisons, connecting the project team to community leaders, employers, and other important stakeholders. The Steering Committee also provides feedback, reviews draft documents, and promotes the regional development plan.
County Workshops
To gather feedback for the regional development plan, the project team facilitated workshops in all eight of the region's counties. Key stakeholders were invited to attend these meetings to envision the future of their county, identify barriers preventing them from achieving their vision and aspirations, and outline actions that could be taken to overcome these barriers. Across the region, there were 212 participants in the county workshops.
Regional Workshops
During the first of two regional workshops, the project team will review the findings of the county workshops then work towards building consensus on regional priorities.
ECI READI 2.0 Regional Workshop 1 – August 15
ECI READI 2.0 Regional Workshop 2 *Date TBD
---
News
---
Contact Us
For more information on East Central Indiana's READI program, please reach out to Trevor Friedeberg at tfriedeberg@ecirp.org.