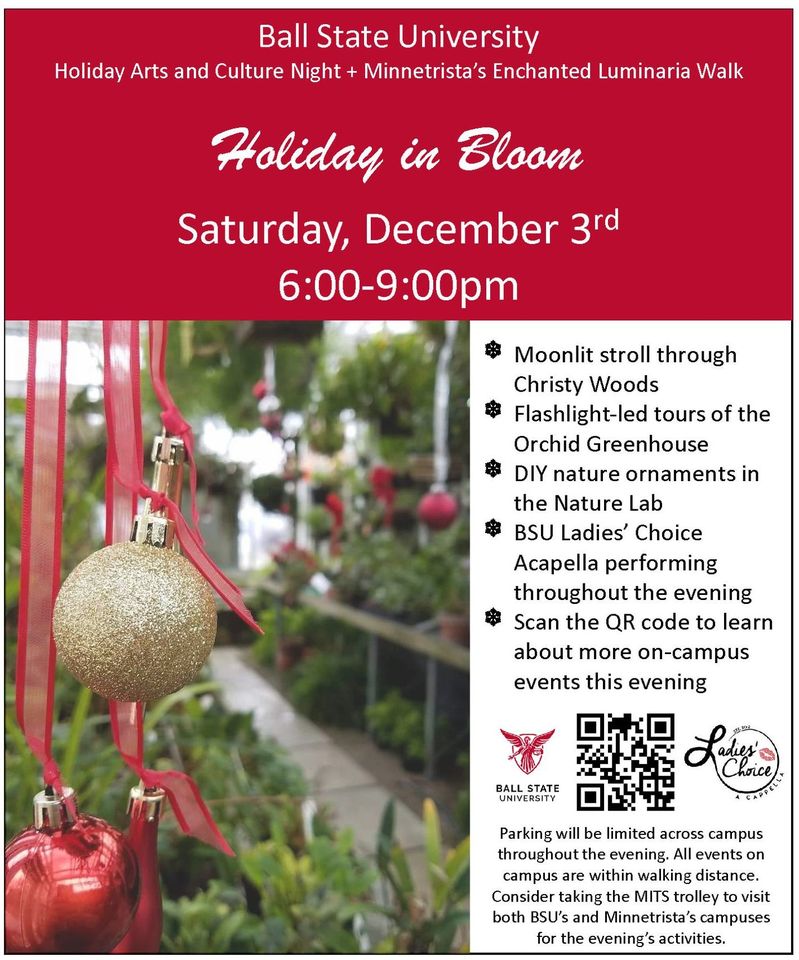 Discovery
Ball State University Hosts Holiday Arts & Culture Night
November 22, 2022
Celebrate the holiday season with a diverse array of seasonal activities throughout Ball State University's campus and Minnetrista during their annual Holiday Arts & Culture Night and Enchanted Luminaria Walk on Saturday, December 3rd, from 5:00 to 9:00 p.m!
Venues include:
– Rinard Orchid Greenhouse & the Environmental Education Center:
Luminaria-lit walk-through Christy Woods
Flashlight tours of Orchid Greenhouse
Nature-inspired holiday crafts in Nature Lab
All events will take place from 6-9pm.
– Charles W. Brown Planetarium:
"The Solar System for Kids" at 3:30 p.m.
"We are Astronomers" at 5:00 p.m. and "The Christmas Star" at 6:30 p.m.
– John R. Emens College-Community Auditorium:
"Christmas Celebration!" with the Orchestra Indiana at 6:00 p.m.
– David Owsley Museum of Art:
Festive Holiday Open House from 6:00-8:00 p.m.
– Marilyn K. Glick Center for Glass:
Glass-blowing Demos and Sale from 5:00-9:00 p.m.
– School of Music:
Sursa Hall hosts a High School Honor Band concert, featuring a performance by the Ball State Wind Ensemble, at 7:30 p.m.