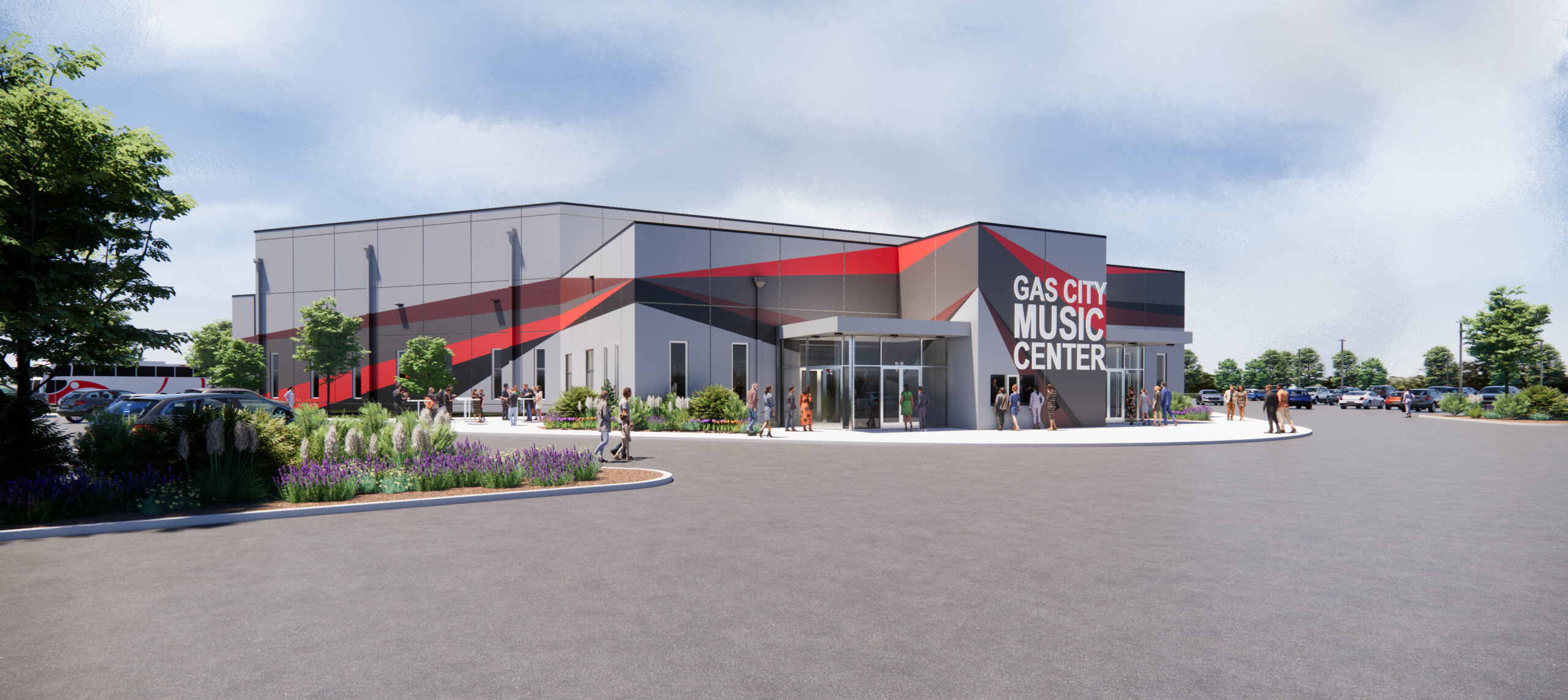 Discovery
Groundbreaking Ceremony Marks the Beginning of Construction for Gas City Music Center, an Exciting New Venue
June 9, 2023
The city of Gas City witnessed a special occasion on Wednesday, May 10 as local officials, business leaders, and community members gathered for the groundbreaking ceremony of the highly anticipated Gas City Music Center. Gas City Mayor, Bill Rock, and city engineer, Jason Miller, were among those who participated in the event, symbolizing the commencement of construction for the project.
The Gas City Music Center is the first East Central Indiana READI project that requires an entire new build to begin construction and hold a groundbreaking ceremony. The 1800-seat venue promises to bring an array of entertainment options to the community. With its state-of-the-art auditorium, the venue will serve as a hub for future performing arts shows, seminars, and various other events bringing people together from the city and region.
Community members gathered to celebrate the continued growth and development taking place in Gas City. Mayor Bill Rock took the opportunity to speak, discussing future plans, the anticipated opening, and how the auditorium will positively impact the community. He highlighted the economic benefits the venue will bring, attracting new businesses and visitors from surrounding areas.
"We are excited about the growth this will accelerate in and around the city and region," said Mayor Rock. "This project is a game changer and we look forward to the positive impact made possible in part by the READI program. Thank you Governor Holcomb and the Indiana Legislature."
Construction of the Gas City Music Center is expected to be completed by mid-2024. The project signifies a remarkable milestone for Gas City and the entire region, marking a significant step forward in providing entertainment and cultural opportunities to its residents.
Launched by Gov. Holcomb and led by the Indiana Economic Development Corporation (IEDC), READI encourages regional collaboration and data-driven, long-term planning that will attract and retain talent in Indiana. The $500 million READI fund was passed by legislation during the 2021 session and was divided among 17 regions. Through READI, 17 regions across the state that represent all 92 counties are moving forward with projects and programs designed to enhance Indiana's regions for current and future generations of Hoosiers. Collectively, the state's $500 million investment is expected to yield an additional $9.86 billion in public, private, and nonprofit dollars invested (19.72:1 investment leverage ratio) in enhancing Indiana's quality of life, quality of place, and quality of opportunity.