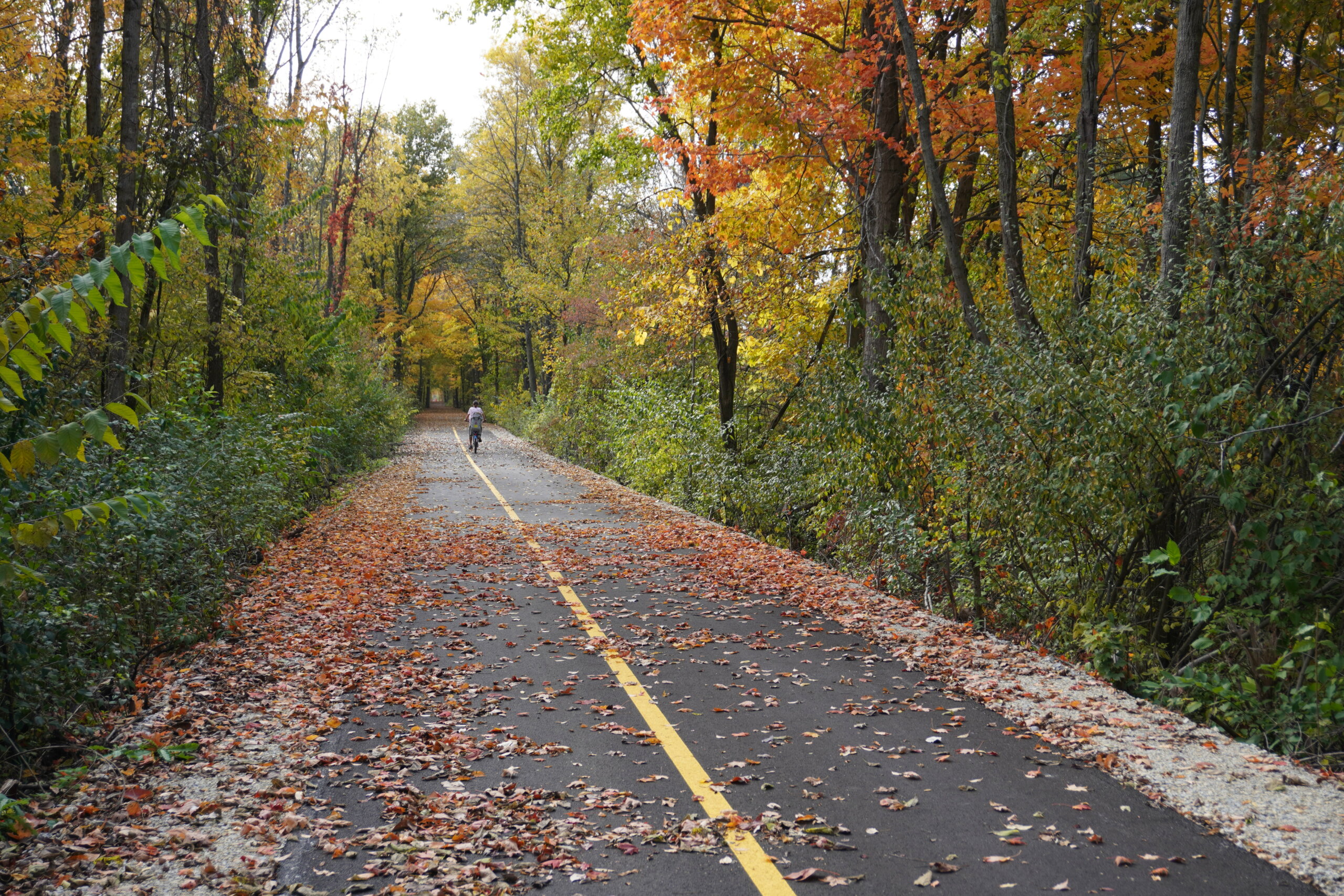 Discovery
Ribbon Cutting Marks Completion of Phase Three for Wilbur Wright Trail
November 20, 2023
The community of Mooreland and Healthy Communities of Henry County celebrated the completion of phase three of the Wilbur Wright Trail project with a ribbon-cutting ceremony on Friday, November 17. This completion marks a milestone in the development of the expected five phase trail, which has been a long-cherished goal for the community.
The Wilbur Wright Trail, a 13.1-mile project that began its journey in 2003, was originally established as a railroad in Mooreland, Indiana, back in 1882. The current trail stretches 2.6 miles, connecting the Wilbur Wright Fish & Wildlife Area and the Henry County YMCA. Phase three of the trail extends from county road E 400 N to E 525 N.
Jeff Ray, Trails Coordinator for Healthy Communities of Henry County and advocate for outdoor recreation, shared insights into the project's background and significance for the community. "The goal of the Wilbur Wright Trail is to connect to the Cardinal Greenway from New Castle to Losantville, creating a robust trail network," he explained. "This project has not only brought intercounty citizens together but has made a significant impact on Mooreland, a town with fewer than four hundred residents."
In response to questions about the ongoing impact of the trail project, Ray emphasized, "A trail like this serves as a reflection of our community and our shared aspirations. Its importance extends beyond just individual interests; we all can benefit from this."
Ray also expressed gratitude for the support and partnership with East Central Indiana Regional Partnership stating, "The relationships that have developed from this partnership have been wonderful and instrumental in achieving our goals." The completion of phase three has been made possible through dedicated efforts and collaboration with partners across the region and state, such as READI 1.0 funding.
The Wilbur Wright Trail project has provided Mooreland and Henry County with an opportunity to attract visitors and expand recreational offerings. In addition to enhancing the quality of life for local residents and visitors, the trail will provide access to the Mooreland Fair and connect to the Cardinal Greenway, offering endless possibilities for outdoor enthusiasts.
Final steps of phase three include adding signage at road crossings, railing sections, benches for permanent seating, bike racks, and a bike repair station at the Mooreland trailhead. The final trail, once all phases are completed, will stretch 13 miles long, connecting Mooreland and the surrounding areas with a picturesque and accessible trail network.
"The Wilbur Wright Trail is more than a physical path; it's a testament to the incredible impact we can create together in East Central Indiana," said Trevor Friedeberg, President/CEO of the East Central Indiana Regional Partnership. "Trails are a vital asset that bind the region together and we couldn't be more thrilled about this continued development in Henry County."
The Wilbur Wright Trail phase three trail project is one of 19 projects in East Central Indiana funded by READI. East Central Indiana Regional Partnership continues to prepare for the next round of READI, hoping to further build on the successes of the READI 1.0 funding.
Launched by Gov. Holcomb and led by the Indiana Economic Development Corporation (IEDC), READI encourages regional collaboration and data-driven, long-term planning that will attract and retain talent in Indiana. The $500 million READI fund was passed by legislation during the 2021 session and was divided among 17 regions. Through READI, 17 regions across the state that represent all 92 counties are moving forward with projects and programs designed to enhance Indiana's regions for current and future generations of Hoosiers. Collectively, the state's $500 million investment is expected to yield an additional $9.86 billion in public, private, and nonprofit dollars invested (19.72:1 investment leverage ratio) in enhancing Indiana's quality of life, quality of place, and quality of opportunity.