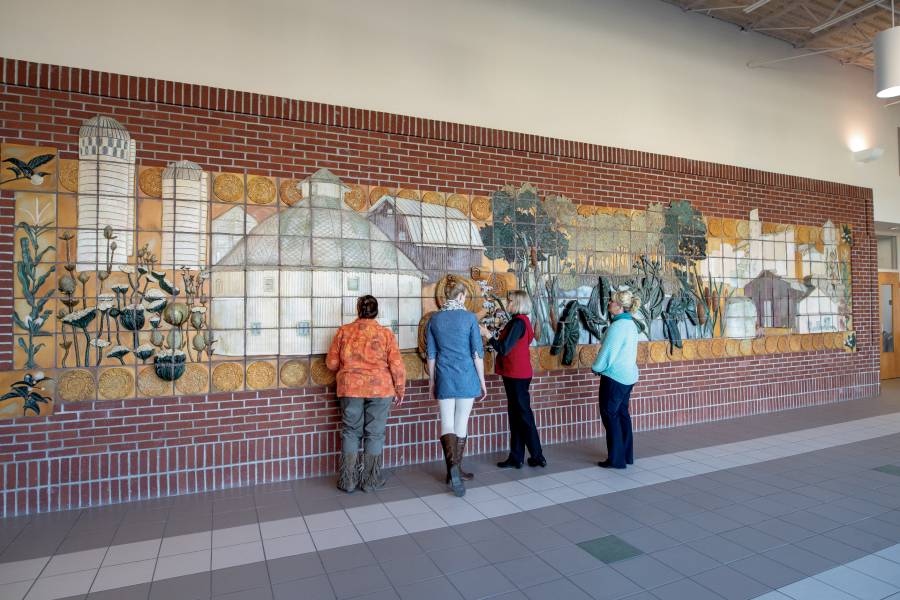 Discovery
15 Fun Things to Do in East Central Indiana
March 25, 2021
East Central Indiana is a place that offers visitors many fun and unique adventures. From visiting historical sites to taking in the scenery, there are plenty of things to do around this charming region. Whether you're looking for something indoors or outdoors, here are some of the best fun things to do in East Central Indiana. Enjoy discovering all that East Central Indiana has to offer!
Mounds State Park
The Native American mounds at Mounds State Park are a great place to explore the history of Indiana's indigenous people and see how they adapted to their surroundings. Ten mounds were built by the prehistoric Adena-Hopewell culture, but still hold an important role in modern life.
The Great Mound at Mounds State Park is believed to have been constructed around 160 B.C. Archaeological surveys indicate the mounds were used as gathering places for religious ceremonies, and from where astronomical alignments could be viewed.
The Bob Ross Experience at Minnetrista
The Bob Ross Experience at Minnetrista brings the philosophy of fearless creativity to life at the historic home where The Joy of Painting was filmed. Visitors can sit in Bob's former studio and explore original paintings and artifacts from his life along with interactive experiences that will make you want to start painting or have a fresh perspective on it.
Located on an impressive 40-acre campus, this public gathering place is home to many historically significant houses with incredible stories to tell – including the Lucius L. Ball House which was used as Bob's home for a time while he painted The Joy of Painting!
Muncie Children's Museum
You won't find anything like the Muncie Children's Museum anywhere else. This interactive museum has exhibits that are designed specifically for kids and their families, such as a giant outdoor water tub where you can play with your favorite beach toys or an indoor tree house-themed room that features a small theater space.
Whitewater Gorge Trail
Hikers, cyclists, and nature lovers alike will be able to explore the geological and historical significance of Whitewater Gorge. This scenic, pathed path follows the course of the Whitewater River in Richmond. Trees line either side of the trail providing ample space for viewing wildlife. Fossils dating back 450 million years ago are easily found in the limestone cliffs along the trail.
Highlights along the Gorge Trail include the Veterans Memorial Park, Starr-Gennett Building, and stark vertical limestone cliffs carved out by the river over thousands of years. At its terminus, the Whitewater Gorge Trail connects with the Cardinal Greenway, the longest rail-trail in Indiana.
Mississinewa 1812
Mississinewa 1812 is the largest War of 1812 living history event in the United States! It's a historical commemoration that takes place over 2 days to commemorate The Battle Of Mississinewa fought in Grant County on December 1812.
As you might imagine, this reenactment includes horses and cannon fire and even bails of hay for a barnyard feel; but it's not just about emulating a time period from centuries ago. Learn about some lesser-known facts about how people lived back then as well as what life was like for the people of early Indiana, as well as the soldiers.
Indiana Basketball Hall of Fame
The Indiana Basketball Hall of Fame in New Castle is your chance to step into the world of Indiana basketball. You'll find exhibits celebrating everything from early teams to today's players as you take a trip through Indiana's proud history as one of America's most important states for basketball.
The 14,000 square foot museum features not only iconic Indiana players such as Larry Bird and Reggie Miller but interactive exhibits that will bring you closer to some of your favorite moments!
Meltdown Winter Ice Festival
The Meltdown Winter Ice Festival is the best way to spend a frosty January in Richmond, Indiana! Think of it as an ice-carved adventure tour where you can see the incredible artistry that goes into carving giant blocks of ice into beautiful sculptures.
This weekend-long event encompasses dozens of events and locations throughout Richmond. The headline events are the Ice Fights, where two teams of ice sculptors carve competing ice sculptures in front of a cheering audience of thousands.
Arts Place
Arts Place is a premier center for the visual and performing arts. With three centers, Auglaize/Mercer Center, Blackford County Arts Center, and the Portland Center, Arts Place is able to offer a wide variety of programing and bring the arts to East Central Indiana.
The Portland Center for the Arts has a lot of cool features. There's an arts plaza, an outdoor art park, and parking lots. It also includes Hall-Moser Theatre, Galleries, and Goodrich Hall with visual arts and music studios. The center is host to a number of art exhibits and performances.
Heart of Rushville Farmer's and Artisans Market
This farmers market in downtown Rushville is a must-visit destination during the summer months. It offers a variety of fresh produce, baked goods, soap, jewelry and other handcrafted items. Above that they also provide a way for community members to connect with local farmers and artisans.
In addition, organizers coordinate outreach efforts such as the Little Sprout Academy which teaches kids about farming, gardening conservation nutrition in more detail. The market truly is the heart of Rushville, showcasing the best this community has to offer.
Dunkirk Glass Museum
The Dunkirk Glass Museum shares this small town's unique glass-making heritage with visitors. Just a short drive from Portland, you can explore an exhibit of over 30,000 pieces of glassware dating back to ancient Egypt and learn about everything from blown glasswork to stained-glass windows.
Dunkirk was once the center of glass production in Indiana and is known as the Glass Capital of Indiana. At one time the Indiana Glass Company was headquartered there as well as 22 other glass factories.
Mary Gray Bird Sanctuary
The Mary Gray Bird Sanctuary is a great place to explore the outdoors and have some fun. Located south of Connersville in Fayette County, this Indiana Audubon Society-owned nature preserve has many hiking trails to explore.
Chocolate Moose
The Chocolate Moose in Farmland is a 1950s-style diner and soda fountain offering fantastic quality comfort foods. They offer fantastic comfort foods, burgers, fries of every shape and size. Plus the ice cream will make your mouth water. The walls are lined with old pictures of the 50's era. It feels like you're stepping back in time.
World's Largest Ball of Paint
This roadside attraction might be a little bizarre. Living up to its name, the World's Largest Ball of Paint hangs from an industrial-size hook and is the vision of Michael Carmichael who has been adding layers to the paint ball since 1977.
At over 14 feet in circumference, the ball of paint continues to grow in size! Visitors are encouraged to help paint the ball. They can choose the paint color and receive a certificate that says, "I Painted the World's Largest Ball of Paint."
Hartford City Civil War Days
The annual Hartford City Civil War Days is one event that you do not want to miss! The festival centers around Indiana's involvement in America's bloodiest conflict with demonstrations on drill maneuvers, musket firings, and band performances.
During this event, you can walk through army camps and interact with Civil War demonstrators. You can also visit with blacksmiths, weavers, spinners, rug makers, and refugees to get a better idea of what life was like in the 1860s.
Fairmount Historical Museum
Fairmount has a rich history and was home to some notable icons. The Fairmount Historical Museum not only contain tells the story of Fairmount's own history but is home to the world's largest private collection of James Dean memorabilia.
In addition to the James Dean collection, the museum also has extensive displays of Garfield creator Jim Davis and Olive Rush, a nationally-renown artist known for her murals created during the Great Depression.